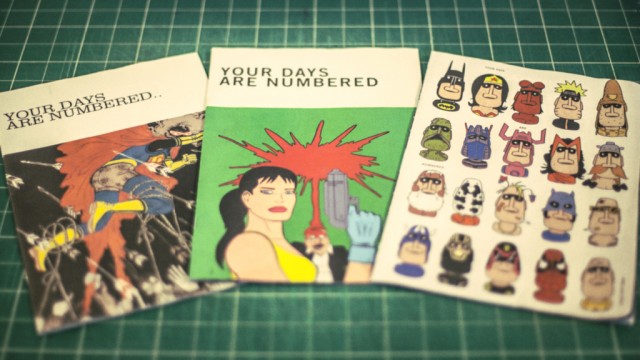 ---
about this time a year ago i was back in england with my brother wandering around london buying gifts and the like. at some point somewhere between the various shops we'd been to, i ended up with a tabloid sized newspaper in my bag with an drawing of iron man on the front, bleeding from his eyes. just above his head in a circle read the words, your days are numbered.
sitting down to grab a bite somewhere in soho i pulled out the paper and spread it across the table in front of us. immediately i was taken aback by the design of the layouts on every page. it's long been a great sadness of mine that so few seem to have learned from magazines like the ray gun and the face, that one should endeavour to design layouts in response to their content, rather than the other way around. of course to find that this?free publication was being braver than the majority of expensive mags weighing down the racks in shops worldwide, should of course have come as absolutely no surprise. free fanzines and their brethren have been developing their punk aesthetic this way for decades now, and this new beauty in front of me was clearly no different.
in their own words, your days are numbered?is an independent graphic fiction magazine documenting the world around creators, comics and pop-culture. a world that whilst i have a huge respect and appreciation for, am absolutely ready to admit i'm not involved in as much as i would like, or perhaps should be. this ostentatiously designed thing lying spread-eagle over my burger and fries however, was about to pull me in deeper into that world that i ever thought i'd go.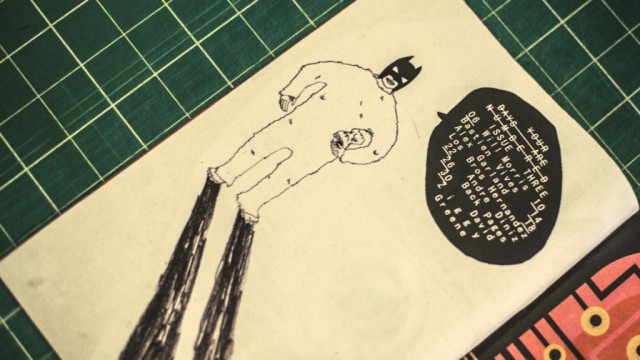 arriving back in new york i found the issue in my bags and immediately pinned it to my bedroom wall. if anything it was simply going to remind that there's still hope. however, over the next few days i kept looking at it and eventually pulled it down from the wall, opened it up and flipped to the masthead. i was going to write to these guys. they had to know how brilliant i thought they were, and as is my curse, i was absolutely going to offer to work for them, at whatever cost. it's one thing to think something's great, another thing to encourage them to continue – but if you really believe that what they're doing is great, you have to work to take them to another level in whatever capacity you can.
firing off an email into the void, it was quite a while before i got a response. eventually i got a very nice email from their editor steve turner who immediately pointed out the humour in the fact that i was an english guy in new york writing to an american in london, and pretty soon we were talking about all of that and more. they immediately asked if i was interested in doing a layout or two for the next issue. not just that, they were asking if i wanted to layout an interview with alex garland?about the script he'd just written for the new judge dredd feature film. as a fan of dredd from when i was kid, and a big critic of alex garland's work, it was perhaps more than i could have ever hoped for. certainly as my first shot at designing a magazine layout of any sort.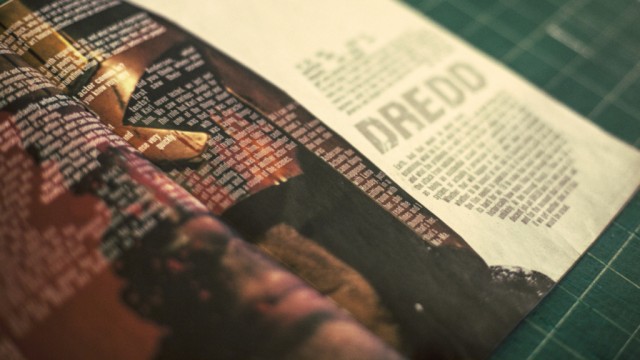 they were very clear about the fact that i could absolutely do whatever i wanted, and simply sent me text and images to work with. i couldn't really ask for more.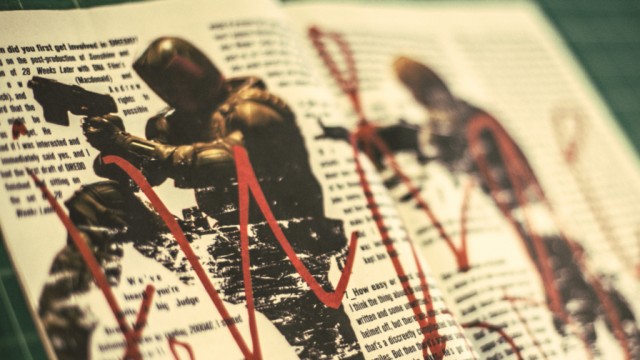 then another serendipitous thing happened. a parcel had arrived in our studio during the spring containing a big brick of a comic book with the title king city. i had no idea who had sent it and during some time off in los angeles this summer to edit a short film i've been working on, i started to read it. it was captivating to say the least. the artwork, whilst not typically my style, married so beautifully with the playful dialogue, characters and science fiction concepts, that i was a quick convert. in fact i had to take care to not read it too fast, as comic books in my experience are too easily ripped through and thrown in a pile never to be visited again, and i'd not enjoyed one this much in a while.
after emailing around, curious as to where the book had materialized from, i soon discovered an old friend and comic book enthusiast had simply thought i might enjoy it, so had fired it off at me from his amazon account.
well of course then i get an email from steve at YDAN saying that they had another layout they were interested in me doing, an interview with the creator of?king city – brandon graham. once again i'd been blessed with that sacred thing in design – a great love and understanding of the content i was being asked to lay out. furthermore after being put in touch with brandon so that i could get some of his artwork from him, he offered to do a custom drawing just for the interview. i was over the moon. i set to work immediately, once again on two double page spreads and whilst this was definitely a tougher layout this time, am happy with the results.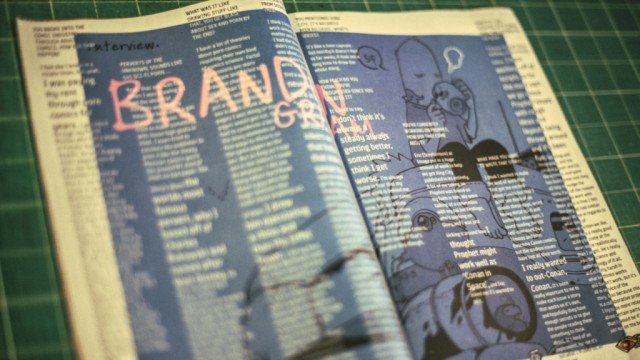 afterall you can only do so much before the words have to take precedent, but i felt the balance between what was readable and how much character i got to put into the layouts in order to make it a memorable and exciting reading experience, was good.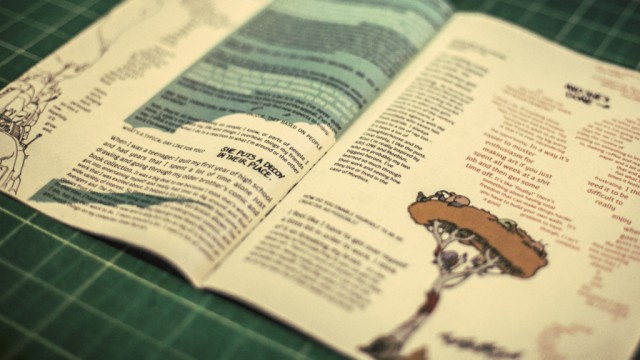 the brandon graham issue is now on the shelves and i'm told doing better than any issue they've had before, in their admittedly short life thus far. you can find it in london at rough trade, brick lane coffee, eggs milk butter and gosh comics. i'm told it's gonna be winging it's way into various comic book stores in new york in the not too distant future too. so you know, if you have the means, it is?free afterall. whether you're a comic book fan or not, steve and his team are doing the most fucking fantastic job of covering all sorts of relevant content.?most importantly of all however, they are trying to make every issue powerfully different, entertaining just to flip through and fully immersive once you get reading.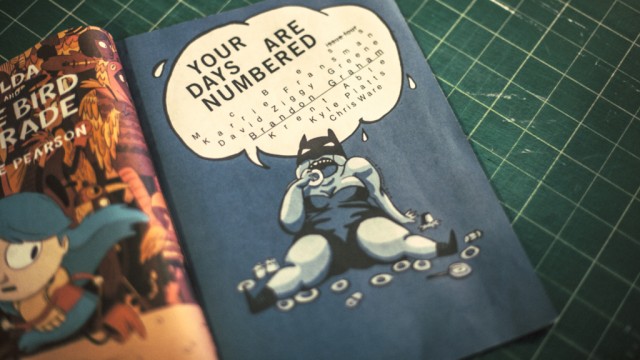 sitting back and looking at the various issues laying now on my desk and talking about the whole situation with steve, and some other friends, i am beginning to see the incredible potential of what these guys are trying to do here. more so than i perhaps did at first. it's been too long since i've been excited by any publications of this kind (excluding of course the mighty little white lies), and i feel like?your days are numbered could comfortably be a part of any new vanguard movement striving to show people what a little free will, free press and design fundamentalism can achieve. i am very happy to be a part of this team and am excited to see where they steer this ship to next. i've been asking to be involved in magazines of one form or another for a long time, and in many ways i think i may well have found the most perfect spot to exorcise all the demons i have haunting my thoughts about the printed publication world.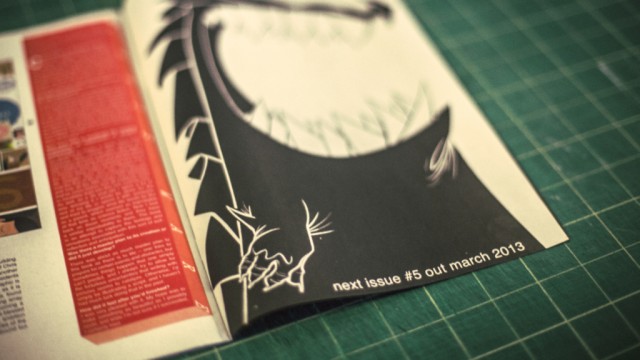 _category
blog
,
grafiks
,
news
_tags
alex garland
,
brandon graham
,
brick land coffee
,
design
,
eggs milk butter
,
gosh comics
,
judge dredd
,
king city
,
layout
,
little white lies
,
magazine
,
newspaper
,
ray gun
,
raygun
,
rough trade
,
the face
,
your days are numbered