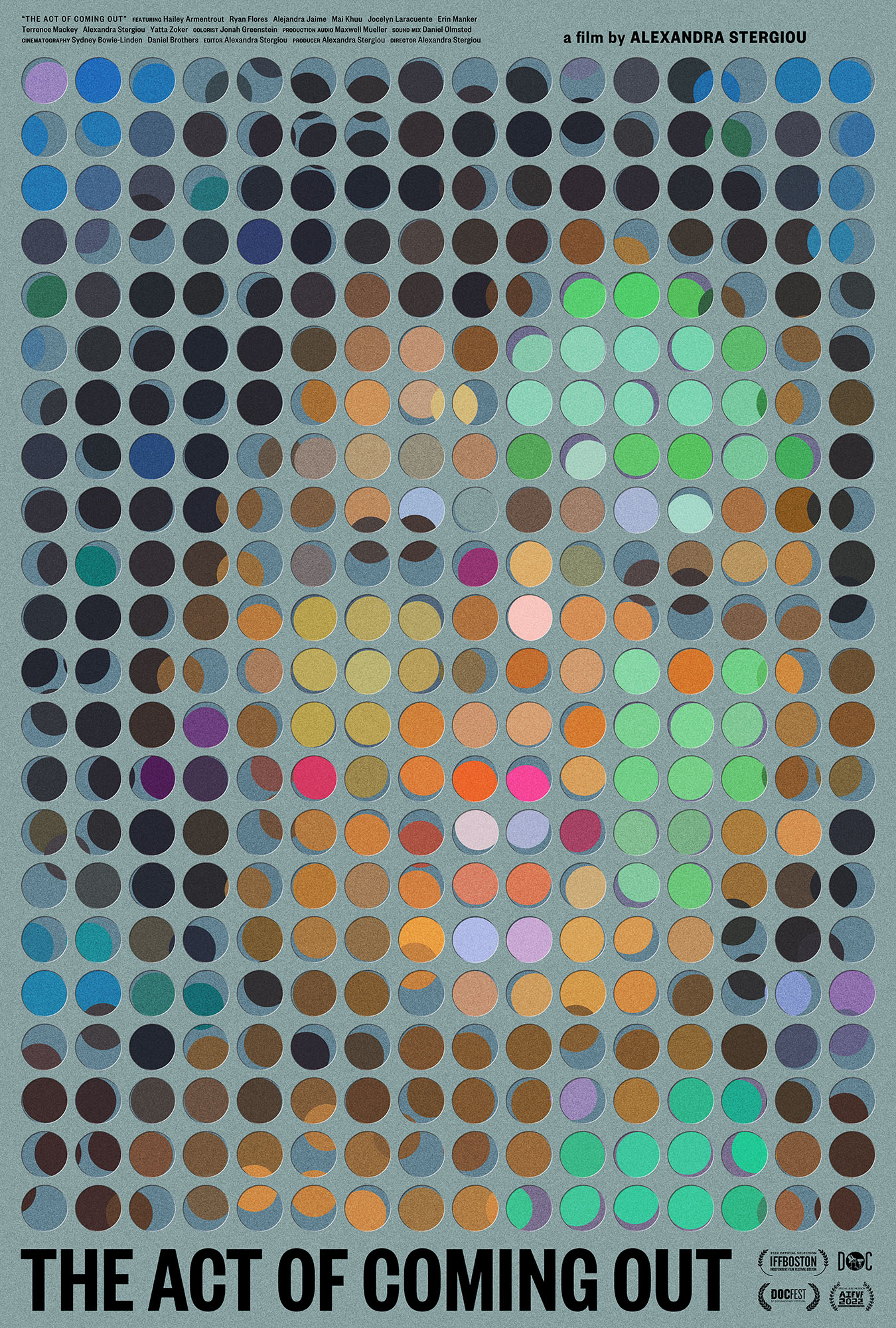 ---
our poster for alexandra stergiou's hybrid documentary, the act of coming out, was selected as MUBI's movie poster of the week today. to accompany the selection caspar was interviewed by adrian curry about the making of the poster. you can read an excerpt from the interview here:
NOTEBOOK: As with A Confucian Confusion, your poster feels as if you should be able to step back from it and a face will start to appear, but only a very vague sense of a face forms. Is there an actual face in there or is it a multitude of faces mashed together?

NEWBOLT: There is an actual face there but much like standing very close to a large painting by Seurat, when you are close to the poster you end up seeing only a cloud of colors and thus having the vaguest sense of a face or a multitude of faces as a result. That said if you squint your eyes, even close up, you'll see the face much more clearly.

It will perhaps remind people of that famous scene in John Hughes's Ferris Bueller's Day Off (1986) where they visit Chicago's Art Institute and Cameron Frye ends up transfixed in front of Seurat's painting, A Sunday Afternoon on the Island of La Grande Jatte (1886). The picture was painted exactly 100 years before the Hughes film came out, and this particular scene in the film hit me very hard when I first saw it.

I am the son of two painters and grew up in museums and art galleries around the world. I knew every word of Ferris Bueller's Day Off by heart by the time I was 14, inspired largely I'm sure by this moment Cameron has with the Seurat. I myself had stared in just such a way at just so many paintings as a kid. I love that in the director's commentary for the film John Hughes describes Seurat's pointillistic painting style as being like filmmaking, in that: "You're very very close to it. You don't have any idea what you've made until you step back from it." (You can see the scene and hear Hughes' commentary here.)
It was important to Alexandra and I that, because of the film's narrative, you could not clearly tell the gender or ethnicity of the person in the poster. The film presents a series of queer and trans actors of various ethnicities exploring what Alexandra describes as "the never ending process of coming out," and if you look at the LGBTQ flag you can better appreciate the color field we created for the poster. We strove therefore to create an image of a person with a visage comprised of these many shifting colors.
you can read the rest of the interview here. a huge thank you again to adrian curry and to everyone at MUBI for the continued support.
_category
blog
,
grafiks
,
news
_tags
adrian curry
,
alexandra stergiou
,
andy warhol
,
cameron frye
,
caspar newbolt
,
cinema
,
coming out
,
ferris bueller's day off
,
film
,
georges seurat
,
graphic design
,
henri matisse
,
john hughes
,
LGBTQ
,
movie poster of the day
,
movie poster of the week
,
MUBI
,
notebook
,
poster
,
postermaking
,
print design
,
queer
,
the act of coming out
,
trans
,
version industries